Piggyback Labels Stock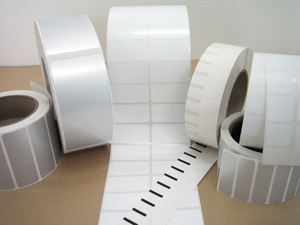 Piggyback labels come in many different shapes, materials, colors and sizes (though nested piggyback labels have less size options than flush cut labels, because of their unique design). They can be die-cut according to your wishes/design.
Some of the facestocks used for piggyback labels are:
These labels are pressure-sensitive. The bottom label is affixed to the application either with a permanent or with a removable adhesive. The top label is peelable, or repositionable. Sometimes there are "specialty" adhesives used for piggyback labels, like freezer grade adhesive, latex adhesive that won't stick to medical gloves or blood bags, etc
They can be printed on laser and inkjet printers, in flexo or thermal transfer technology, on copier machines, etc
Some of the things you need to consider when choosing a piggyback label are:
Will it endure harsh shipping conditions?
Will it be exposed to extreme temperatures (such as cryogenic conditions?)
Will it be handled by medical/lab staff?
Does the information printed on it need to be perfectly readable/scannable?
The answers to these questions will help you choose the right facestock, adhesive and printing technique for your piggyback label.